HOLA! So I literally have half a note book CRAMMED with my notes from the Vogue Festival as it was just SO good! I'm not quite sure how I'm going to cover everything but I shall certainly try!
So Christopher Bailey was first up on the schedule and what a man to start the show. Alexandra Shulman introduced the session with a short video on what Burberry is today. Wow. This video could have brought a tear to my eye, it was epic! It really opened my eyes to how Burberry really is MASSIVE, they cover every angle of fashion that's physically possible and I believe when it comes to digital innovations in fashion, Burberry is definitely one of the leaders of this field.
Christopher firstly spoke of when he came to Burberry. Coming from Donna Karen which was "very New York" and Gucci which was "very Italian" when he arrived at Burberry he felt like he was coming home; Burberry was part of his culture, with memories of his Grandfather owning a Burberry trench coat. He described Burberry as an "incredibly beautiful diamond that hadn't been given the love it should be given", he commented on how "it wasn't a brand, it was a company…it had no life and soul in it" and so from this moment Christopher Baileys's relationship with Burberry began and flourished into what it is today.
Christopher emphasised the importance of the team when it came to Burberry, and described them as the "be all and end all". With 9000 people worldwide they manage to stay connected with an internal social media site (like a Facebook for Burberry) called 'Burberry Chat' which connects head offices and stores worldwide. With this new technology it ensures there is "one Burberry culture" shared worldwide, but ultimately everything comes out of London.
When it comes to the design process Christopher starts with a mood, feeling or spirit. He admitted he's "not very good with themes" and will discuss a mood or feeling with his team so the design process is overall very organic. The factories themselves also inspire his designs, as he believes "there's something really beautiful about hand craft." So far I was literally falling in love with Christopher, his love for his company and team really shone and he is a very emotionally driven character. He spoke highly of Britain and finds "the poetry of the British weather magical"….well I wouldn't go that far Christopher?!  All this rain is a bit much for me…but then again I don't yet own a Burberry trench…maybe that's the answer!!
In true fashionista style, Christopher was jetting off to Tai Pei in China later that day, where they were holding a big event at their new store. Trying not to reveal too much Christopher described it as an "emmersive 360 experience"…I don't know about you but I'm intrigued!! Apparently it was to be video and music experience that surrounded every angle of the room, inspired by the weather…at this point Alexandra jumped in to question this 'experience' as a possible "brainwashing technique?" But Christopher ensured us it wasn't and said it was about inspiring people, and letting them personally experience what the brand should be about.
So do you want to know what Christopher Bailey does in his spare time?? Well the answer is spend as much time in Yorkshire as possible and watch his favourite TV shows including Downton Abbey, Master Chef and The Voice – apparently he admires Will.I.Am…future face of Burberry?? Nah maybe not!
He wouldn't reveal who the next face of Burberry is but he seemed very excited as they had just recently shot the campaign. When it comes to the face of the brand Christopher said it's important for him to get to know the person properly first; before Emma Watson starting modelling for Burberry, Christopher met her socially and they became friends long before any modelling discussions occurred.
When the Vogue Fest session was opened to questions from the audience someone really put Christopher on the spot and asked whether he would have taken the position at Dior instead of Raf Simons!!! After some nervous laughter from the audience at Christopher's delayed response and a bit of um..ahh..and errr-ing he spoke of the potential of Dior but that Burberry was his "baby" and that he said: "I wish Raf the best of luck…he's going to be a rock star there." Good answer Chris! 
Of course one question that occurred AGAIN AND AGAIN at Vogue Festival was 'how do I become a successful designer?' I loved Christopher's answer:
"Everybody has brilliance, but culture is the most important aspect"
He said it's all about "Passion…people that love people…people who are results driven and will translate talk into action, people who want to learn and stay humble to learning." Ultimately his advice was to, "stay curious."
The final question of the session was 'what project/achievement are you most proud of?' His answer? "The team we've built. The team constantly astound me…they have such passion and inspire me every single day."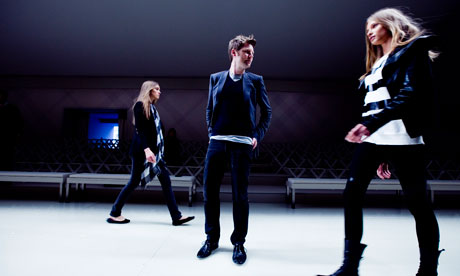 What an amazing man. Stay tuned for more on my experiences at #VogueFest! x